Hypertension in Low- and Middle-Income Countries
The ICHOM Set of Patient-Centered Outcome Measures for Hypertension in Low- and Middle-Income Countries is the result of hard work by a group of leading physicians, measurement experts and patients. It is our recommendation of the outcomes that matter most to patients with Hypertension in Low- and Middle-Income Countries. We urge all providers around the world to start measuring these outcomes to better understand how to improve the lives of their patients.
Recorded via the Beliefs about Medicine Questionnaire (BMQ [BMQ-Specific section]).
Includes physical activity (recommended to track via the International Physical Activity Questionnaire [IPAQ-Short Form]), medication adherence (recommended to track via the Hill-Bone Compliance to High Blood Pressure Therapy Scale – South Africa Version [Medication taking sub-scale]) and salt intake (recommended to track via the WHO STEPS Instrument).
Includes survival (overall and cardiovascular), blood pressure control, hypertensive urgencies and hypertensive emergencies, and erectile function (recommended to track via PROMIS single question).
Includes hospitalization, peripheral artery disease, hypertensive crisis, heart failure, ischaemic heart disease, cerebrovascular disease, atrial fibrillation, and renal disease
Recommended to track via the EQ-5D.
Our sponsors
---

Our Cardiometabolic Family of Sets updates sponsor
---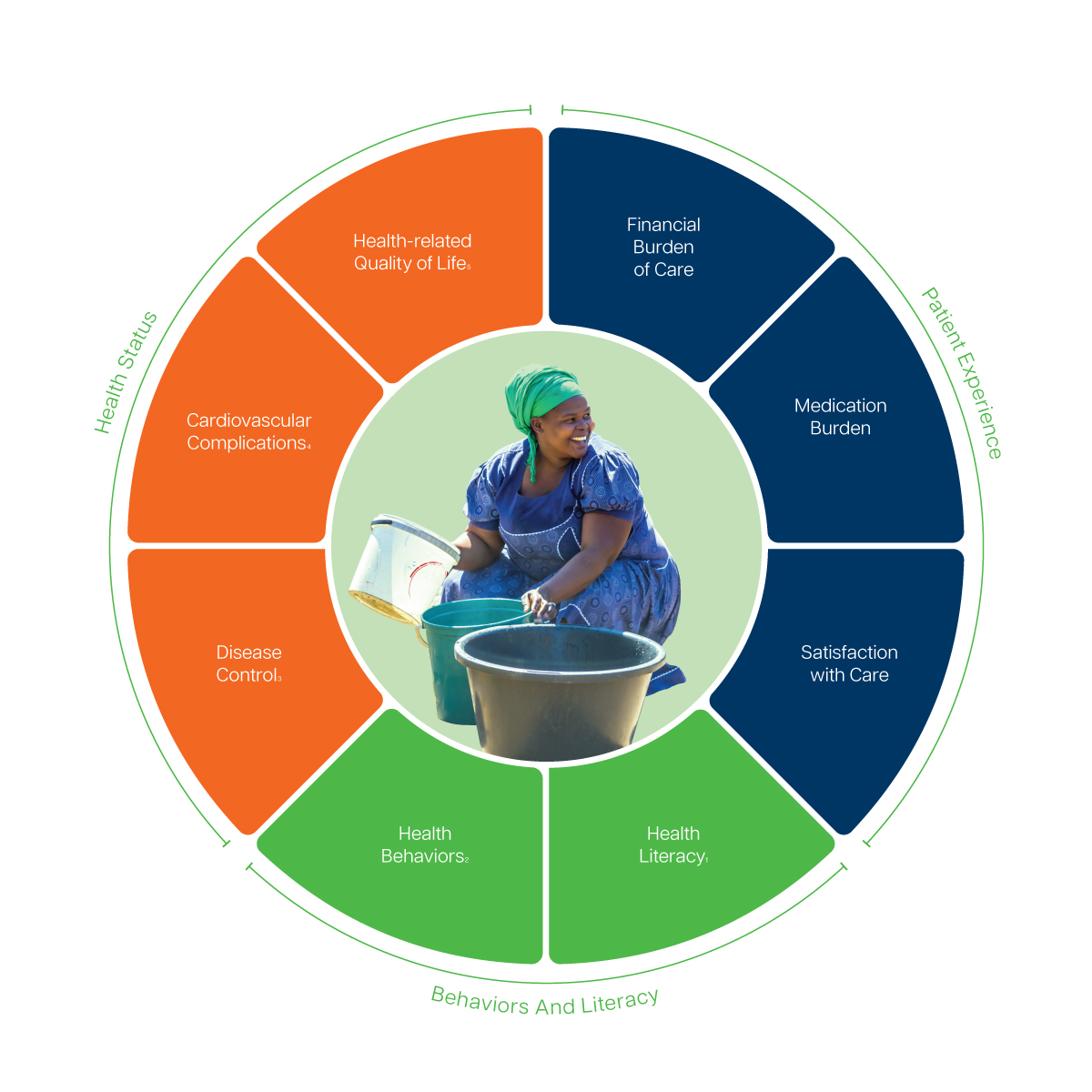 Implementation Resources
You will need a Connect account to access the following documents:

All of the basic information you need to implement ICHOM Sets is available in the links above.
However, for a faster, more easily integrated process, we offer digitised versions of the Set measures. These are designed for immediate upload to existing EMR systems.
This is available as part of our Accreditation package, which recognises your work in putting patient outcomes at the heart of treatment.
---
Team that developed this set
BELARUS
Vladislav Podpalov | Belarusian Hypertension Society, Vitebsk State Medical University
BRAZIL
Otavio Berwanger | Hospital do Coração
Celso Amodeo | Brazilian Society of Cardiology
CAMEROON
Anastase Dzudie Tamdja | Pan African Society of Cardiology, University of Yaounde
CANADA
Norman Campbell | University of Calgary
Ernesto Schiffrin | McGill University, Jewish General Hospital
GHANA
Peter Lamptey | London School of Hygiene and Tropical Medicine, FHI 360
INDIA
Raghupathy Anchala | Indian Institute of Public Health Hyderabad, Public Health Foundation of India
MALAYSIA
Yook-Chin Chia | University of Malaya, Institute for Healthcare Development at Sunway University, Malaysian Society of Hypertension
MOZAMBIQUE
Albertino Damasceno | Eduardo Mondlane University
PORTUGAL
Manuela Fiuza | Universidade de Lisboa
António Vaz Carneiro | Universidade de Lisboa
SWITZERLAND
Fareed Mirza | Novartis Foundation
UNITED KINGDOM
Dorothea Nitsch | London School of Hygiene and Tropical Medicine
UNITED STATES OF AMERICA
Gbenga Ogedegbe | New York University Langone Medical Center
VIETNAM
Nam Phuong Do Thi | Heart Institute of Ho Chi Minh City 
*Two patient representatives from Mexico and Tanzania were also members of the Working Group.
TEAM THAT FACILITATED THE UPDATE OF THIS SET AS PART OF THE CARDIOMETABOLIC FAMILY UPDATES INITIATIVE:
Elena Arbelo | Hospital Clínic Barcelona
Menno Huisman | Leiden University
Andreas Bollman | Heart Centre Leipzig
Benjamin Steinberg | University of Utah School of Medicine
John Beltrame | University of Adelaide
Tom Lumbers | University College London
Cristina García Ulloa | Instituto Nacional de Ciencias Médicas y Nutrición Salvador Zubirán
Andrew Pumerantz | WesternU, Population Health Science
Sergio Hernández | Instituto Nacional de Ciencias Médicas y Nutrición Salvador Zubirán
Søren Skovlund | Evidera
Mark Peyrot | Loyola University Maryland
Magdalena Walbaum | London School of Economics and Political Science
Erik (F.A.) Klok | Leiden University
Albertino Damasceno | Eduardo Mondlane University
Camila de Menezes Succi | Dasa Hospitals
Jana Nano | Helmholtz Zentrum München
Kevin Veen | Erasmus Medical Centre
Cindy de Jong | Leiden University
Tim Benson* | Nile Health
* Patient Representative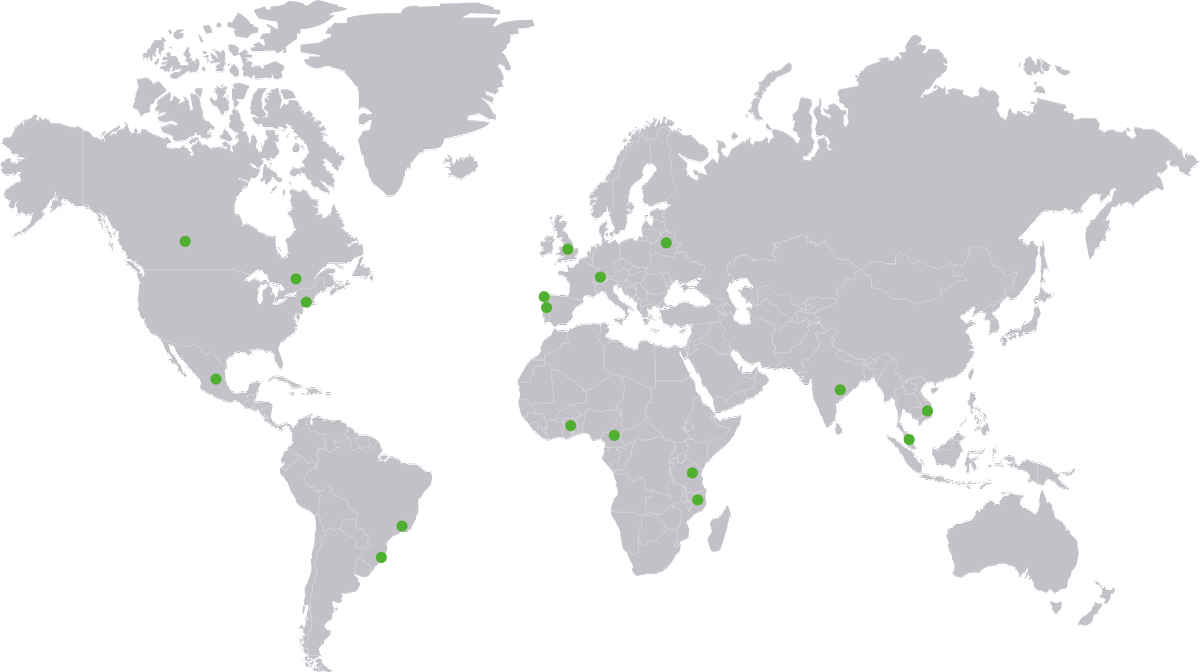 ---
Are you implementing ICHOM Sets?
If your are implementing ICHOM Sets, please help us understand more about your journey by filling in our Implementation Survey. Click on the link below to complete:
View survey
Implementation Map
We would like to add you to our Implementation Map if you are implementing or have implemented ICHOM Sets. Please click on the button below for more information.
Find out more