Stroke
The ICHOM Set of Patient-Centered Outcome Measures for Stroke is the result of hard work by a group of leading physicians, measurement experts and patients. It is our recommendation of the outcomes that matter most to patients having a stroke. We urge all providers around the world to start measuring these outcomes to better understand how to improve the lives of their patients.
Includes mood and global cognitive function
Includes pain and fatigue
Includes mobility, feeding, ability to return to usual activities, and self care and grooming
Includes social participation and ability to communicate
Tracked via the PROMIS SF v1.1 Global Health, with additional single item questions for mobility, feeding, self care and grooming, and ability to communicate. The Simplified modified Rankin Scale questionnaire (smRSq) is recommended to be included.
Updated stroke set materials will be available by the end of November 2021
Our sponsors
---
Our Cardiometabolic Family of Sets updates sponsor
---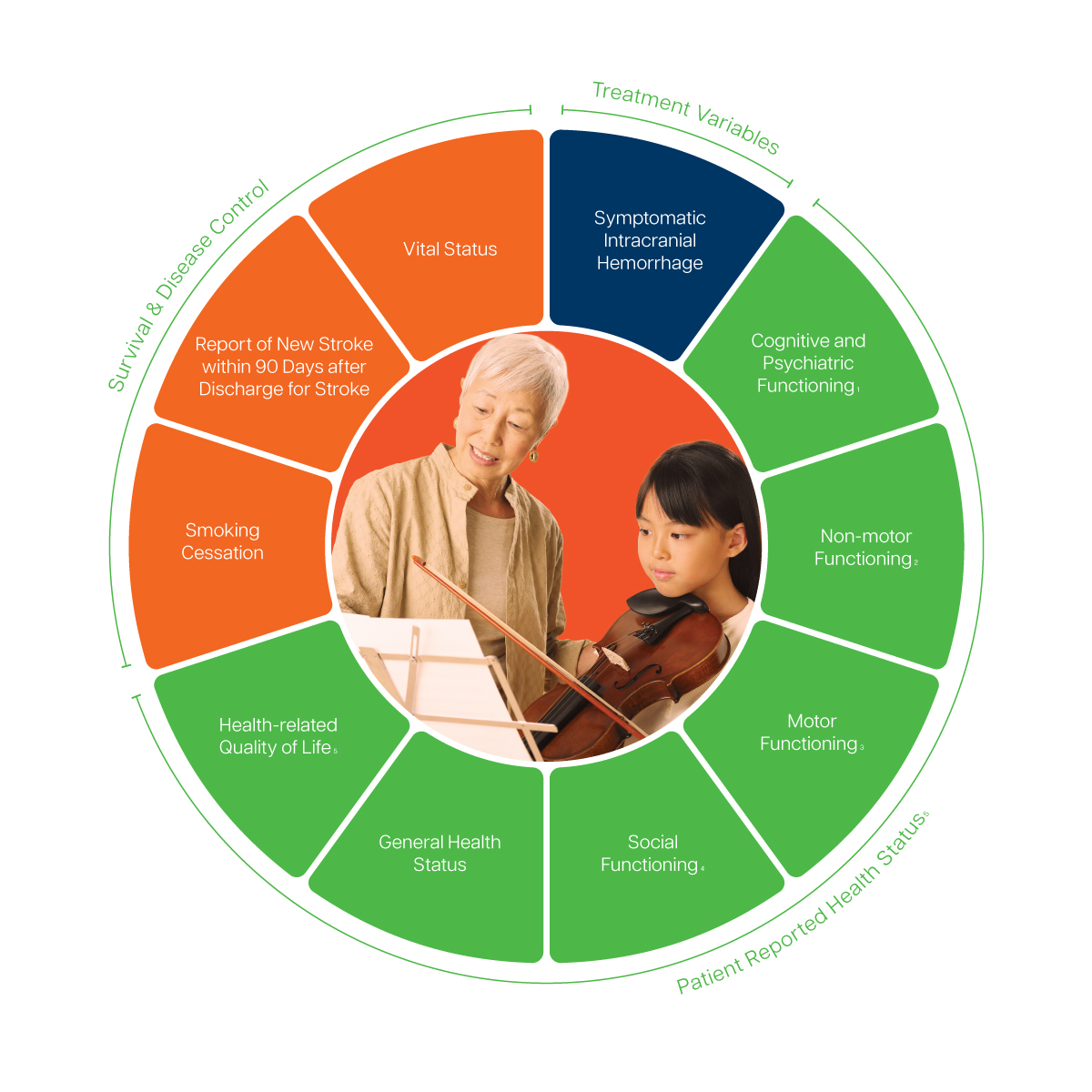 Implementation Resources
You will need a Connect account to access the following documents:

All of the basic information you need to implement ICHOM Sets is available in the links above.
However, for a faster, more easily integrated process, we offer digitised versions of the Set measures. These are designed for immediate upload to existing EMR systems.
This is available as part of our Accreditation package, which recognises your work in putting patient outcomes at the heart of treatment.
---
Team that developed this set
AUSTRALIA
Julie Bernhardt | The Florey Institute of Neuroscience and Mental Health
BRAZIL
Sheila Martins | Hospital Moinhos de Vento, National Stroke Registry
CANADA
Eric Smith | Neurology | University of Calgary | American Heart Association Get With The Guidelines-Stroke registry; Canadian Best Practice Recommendations for Stroke.
Frank Silver | University of Toronto | Ontario Stroke Registry
Patrice Lindsay | Heart and Stroke Foundation of Canada, World Stroke Organization
CHINA
Liping Liu | Capital Medical University, Beijing Tiantan Hospital
NETHERLANDS
Gerard Ribbers, MD PhD | Rehabilitation Medicine | Erasmus University MC; Rijndam rehabilitation center, Rotterdam, the Netherlands
SWEDEN
Bo Norrving, MD | Lund University; Swedish Stroke Register (Riksstroke)
UNITED KINGDOM
Stephanie Gethin | Advanced Practitioner Occupational Therapist | Aneurin Bevan University Health Board, Wales, UK
Charlie Davie | UCLPartners Academic Health Science Network, Royal Free London NHS Foundation Trust
UNITED STATES
Lee Schwamm | Harvard Medical School; Massachusetts General Hospital; American Heart Association Get With The Guidelines-Stroke registry; Paul Coverdell National Acute Stroke Registry; Stroke Joint Commission; Primary & Comprehensive Stroke Center Certification programs
Joel Salinas | Harvard Medical School; Massachusetts General Hospital
Mary George | Deputy Associate Director for Science & Senior Medical Officer, Division for Heart Disease and Stroke Prevention, Centers for Disease Control and Prevention | Paul Coverdell National Acute Stroke Program
Adam Kelly | Neurologist | University of Rochester Medical Center
Linda Williams | VA HSR&D Stroke QUERI, Indiana University School of Medicine
Teri Ackerson* | American Heart Association
Louise Morgan | American Heart Association
* Parent representative
TEAM THAT FACILITATED THE UPDATE OF THIS SET AS PART OF THE CARDIOMETABOLIC FAMILY UPDATES INITIATIVE:
Elena Arbelo | Hospital Clínic Barcelona
Menno Huisman | Leiden University
Andreas Bollman | Heart Centre Leipzig
Benjamin Steinberg | University of Utah School of Medicine
John Beltrame | University of Adelaide
Tom Lumbers | University College London
Cristina García Ulloa | Instituto Nacional de Ciencias Médicas y Nutrición Salvador Zubirán
Andrew Pumerantz | WesternU, Population Health Science
Sergio Hernández | Instituto Nacional de Ciencias Médicas y Nutrición Salvador Zubirán
Søren Skovlund | Evidera
Mark Peyrot | Loyola University Maryland
Magdalena Walbaum | London School of Economics and Political Science
Erik (F.A.) Klok | Leiden University
Albertino Damasceno | Eduardo Mondlane University
Camila de Menezes Succi | Dasa Hospitals
Jana Nano | Helmholtz Zentrum München
Kevin Veen | Erasmus Medical Centre
Cindy de Jong | Leiden University
Tim Benson* | Nile Health
* Patient Representative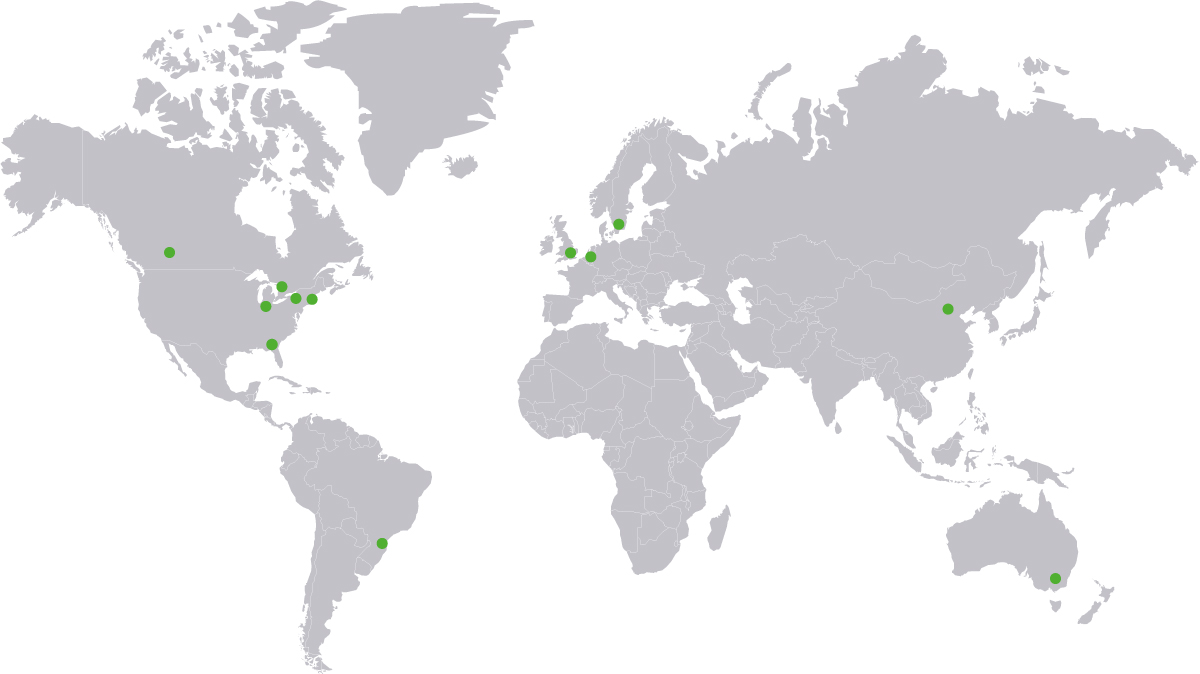 ---
Are you implementing ICHOM Sets?
If your are implementing ICHOM Sets, please help us understand more about your journey by filling in our Implementation Survey. Click on the link below to complete:
View survey
Implementation Map
We would like to add you to our Implementation Map if you are implementing or have implemented ICHOM Sets. Please click on the button below for more information.
Find out more