Venous Thromboembolism
The ICHOM Set of Patient-Centered Outcome Measures for Venous Thromboembolism results from hard work by a group of leading healthcare providers, researchers, and patient representatives. It represents the outcomes that matter most to people (≥16 years old) with Pulmonary Embolism, Deep Vein Thrombosis, and other related conditions*. We urge all providers worldwide to start measuring these meaningful outcomes, which will guide them to improve their care quality.
Measured using the PROMIS Scale v1.2 – Global Health, PEmb-QoL, and VEINES-QOL questionnaires
Measured using the Post-VTE Functional Status Scale
Measured using the PROMIS Short Form v2.0 – Pain Intensity – 3a
Measured using the PEmb QoL and PROMIS Short Form v1.0 – Dyspnea Severity – 10a
Measured through the question: "Are you satisfied with your VTE treatment?"
Measured using the Anti-Clot Treatment Scale
Measured using the PHQ-9 and GAD-7 questionnaires
Measured through the question: "Have you experienced a change in your expectations, aspirations,
values, or perspectives on life opportunities since the diagnosis of Venous Thromboembolism?"
Measured using the Villalta Score
Chronic Thromboembolic Pulmonary Disease
Chronic Thromboembolic Pulmonary Hypertension
*Including anti-phospholipid syndrome, <3-month life expectancy, pregnancy-related VTE, and cancer-associated thrombosis
Our sponsors
---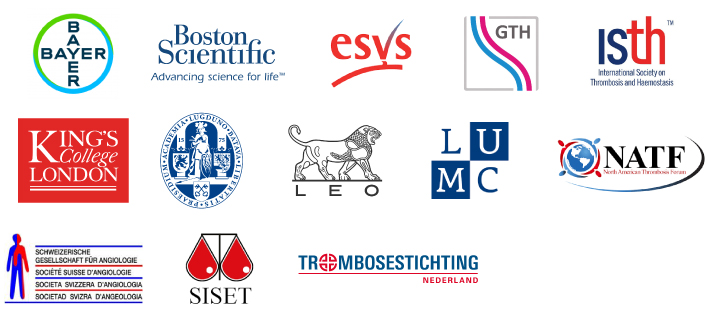 Our Cardiometabolic Family of Sets updates sponsor
---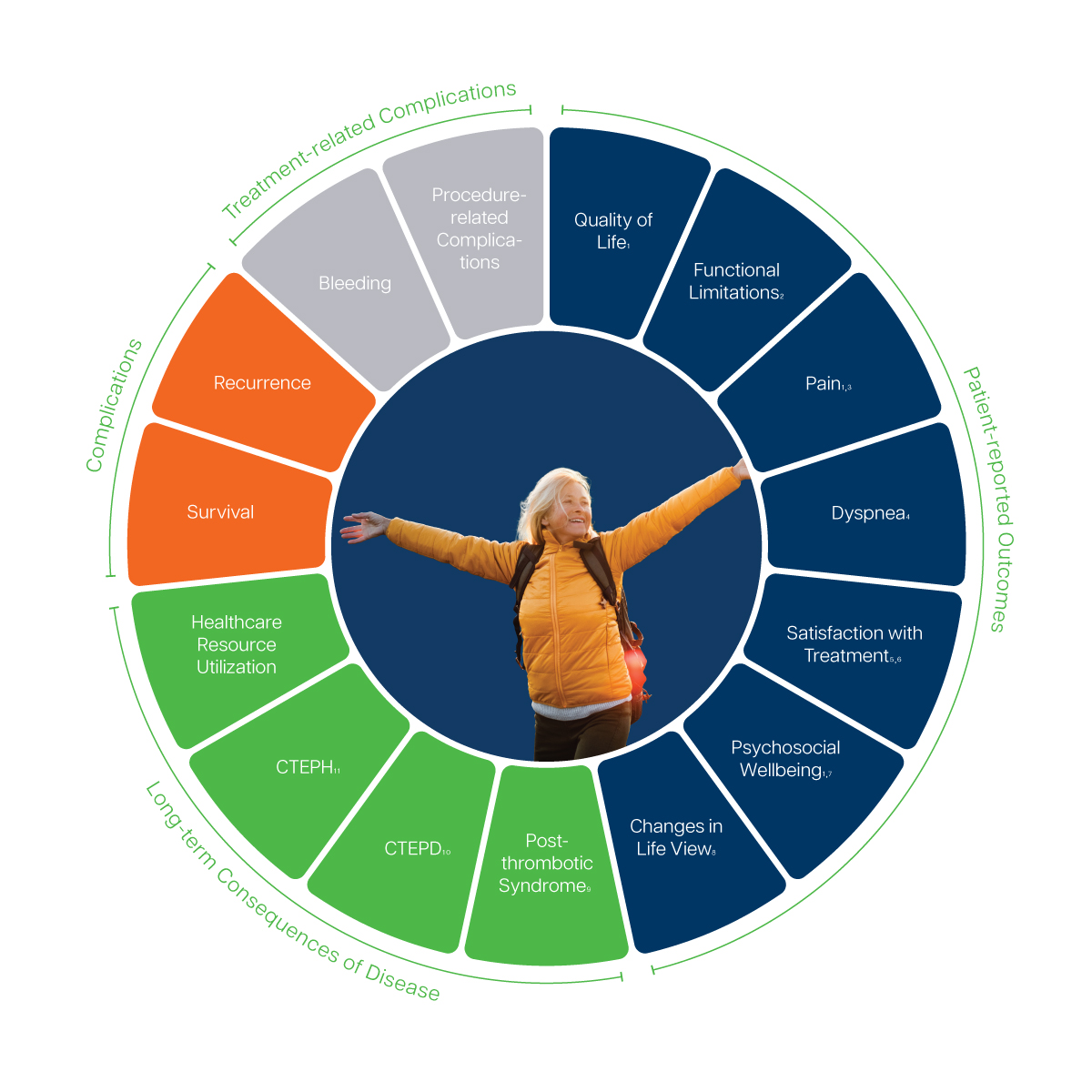 Implementation Resources
You will need a Connect account to access the following documents:

All of the basic information you need to implement ICHOM Sets is available in the links above.
However, for a faster, more easily integrated process, we offer digitised versions of the Set measures. These are designed for immediate upload to existing EMR systems.
This is available as part of our Accreditation package, which recognises your work in putting patient outcomes at the heart of treatment.
---
Team that developed this set
PROJECT TEAM
Chair | F.A. (Erik) Klok | Leiden University Medical Center
Chair | Stephen Black | King's College London
Research Fellow | Cindy de Jong | Leiden University Medical Center
Research Fellow | Adam Gwozdz | King's College London
Director of Outcomes Research | Luz Fialho | ICHOM
Project Manager | Theerawich (Will) Likitabhorn | ICHOM
Research Associate | Frieda Sossi | ICHOM
Research Associate | Paula Blancarte Jaber | ICHOM
AUSTRIA
Cihan Ay | Clinical Division of Haematology and Haemostaseology, Medical University of Vienna
BRAZIL
Marcelo Basso Gazzana | Hospital Moinhos de Vento; ANAHP

CANADA
Kerstin de Wit | Queen's University; McMaster University
Jean-Philippe Galanaud | Sunnybrook Health Sciences Centre
Nicole Langlois | Ottawa Hospital Research Institute
DENMARK
Anette Arbjerg Højen | Aalborg University
FRANCE
Cécile Tromeur | CHU Brest; GETBO, Université de Bretagne Occidentale; F-CRIN INNOVTE, Saint Étienne
Laurent Bertoletti | CHU de St-Etienne; Université Jean-Monnet, SAINBIOSE; F-CRIN INNOVTE, Saint Étienne
THE NETHERLANDS
Arina Ten Cate-Hoek | Maastricht University Medical Centre
Esther Nossent | Amsterdam University Medical Centre Noa Smolenaars*
PERU
Paula Ponce de León Lovatón | Clínica San Felipe – Red SANNA
SPAIN
Juan Arcelus | University of Granada Medical School
SWEDEN
Eli Westerlund | Department of Clinical Sciences, Karolinska Institutet; Danderyd Hospital
SWITZERLAND
Helia Robert-Ebadi | Geneva University HospitalsStefano Barco | University Hospital Zurich
TAIWAN
Kang-Ling Wang | Taipei Veterans General Hospital
UNITED KINGDOM
Alexander Cohen | Guy's and St. Thomas' Hospital; King's College London
Mark Toshner | University of Cambridge
Julie Bayley* | University of Lincoln
Simon Noble | Marie Curie Palliative Care Research Centre, Cardiff University
UNITED STATES
Jean M. Connors | Brigham and Women's Hospital, Harvard Medical School
Mark H. Meissner | University of Washington
Nicos Labropoulos | Stony Brook Hospital
Rachel P. Rosovsky | Massachusetts General Hospital, Harvard Medical School
William R. Auger | University of California, San Diego
Erin H. Murphy | Atrium Health
*Patient representative
TEAM THAT FACILITATED THE UPDATE OF THIS SET AS PART OF THE CARDIOMETABOLIC FAMILY UPDATES INITIATIVE:
Elena Arbelo | Hospital Clínic Barcelona
Menno Huisman | Leiden University
Andreas Bollman | Heart Centre Leipzig
Benjamin Steinberg | University of Utah School of Medicine
John Beltrame | University of Adelaide
Tom Lumbers | University College London
Cristina García Ulloa | Instituto Nacional de Ciencias Médicas y Nutrición Salvador Zubirán
Andrew Pumerantz | WesternU, Population Health Science
Sergio Hernández | Instituto Nacional de Ciencias Médicas y Nutrición Salvador Zubirán
Søren Skovlund | Evidera
Mark Peyrot | Loyola University Maryland
Magdalena Walbaum | London School of Economics and Political Science
Erik (F.A.) Klok | Leiden University
Albertino Damasceno | Eduardo Mondlane University
Camila de Menezes Succi | Dasa Hospitals
Jana Nano | Helmholtz Zentrum München
Kevin Veen | Erasmus Medical Centre
Cindy de Jong | Leiden University
Tim Benson* | Nile Health
* Patient Representative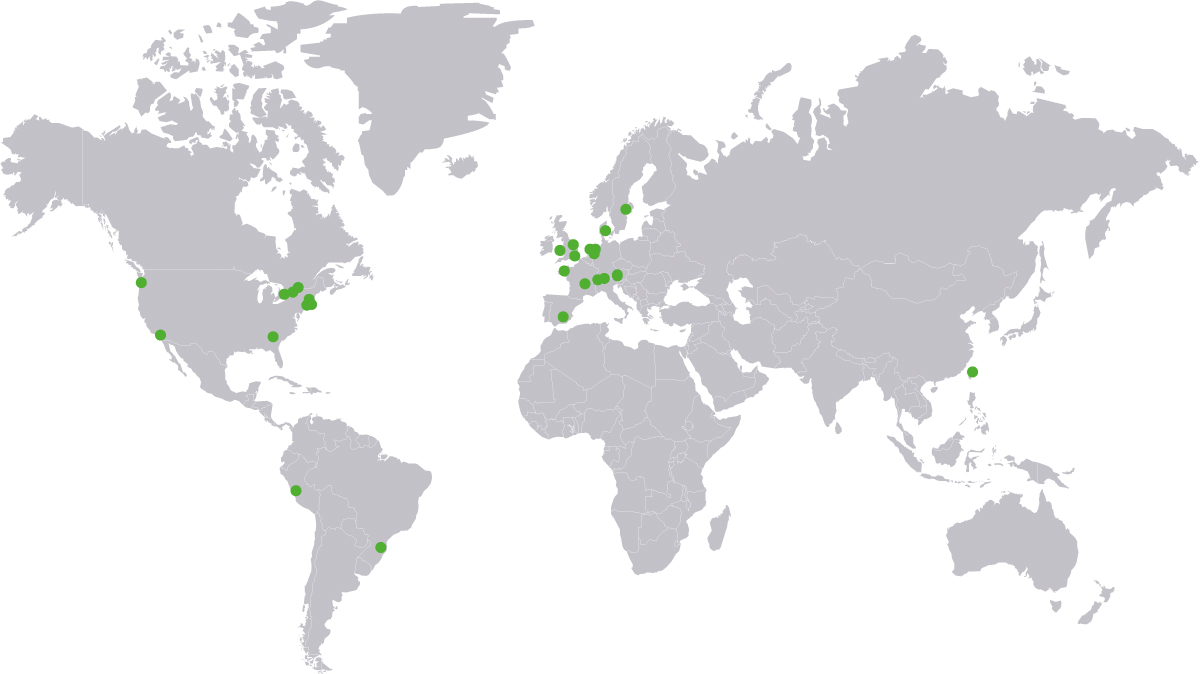 ---
Are you implementing ICHOM Sets?
If your are implementing ICHOM Sets, please help us understand more about your journey by filling in our Implementation Survey. Click on the link below to complete:
View survey
Implementation Map
We would like to add you to our Implementation Map if you are implementing or have implemented ICHOM Sets. Please click on the button below for more information.
Find out more