Coronary Artery Disease
The ICHOM Set of Patient-Centered Outcome Measures for Coronary Artery Disease is the result of hard work by a group of leading physicians, measurement experts and patients. It is our recommendation of the outcomes that matter most to patients with coronary artery disease. We urge all providers around the world to start measuring these outcomes to better understand how to improve the lives of their patients.
Includes occurrence of strokes, acute renal failure, prolonged ventilation, deep sternal wound infection, and other causes of reoperations.
Includes occurrence of strokes, acute renal failure, significant dissection, perforation, vascular complications requiring intervention, bleeding event within 72 hours, and emergent CABG for failed PCI.
Tracked via the Seattle Angina Questionnaire (SAQ-7)
Tracked via the Rose Dyspnea Scale
Tracked via the Patient Health Questionnaire (PHQ-2)
Our Cardiometabolic Family of Sets updates sponsor
---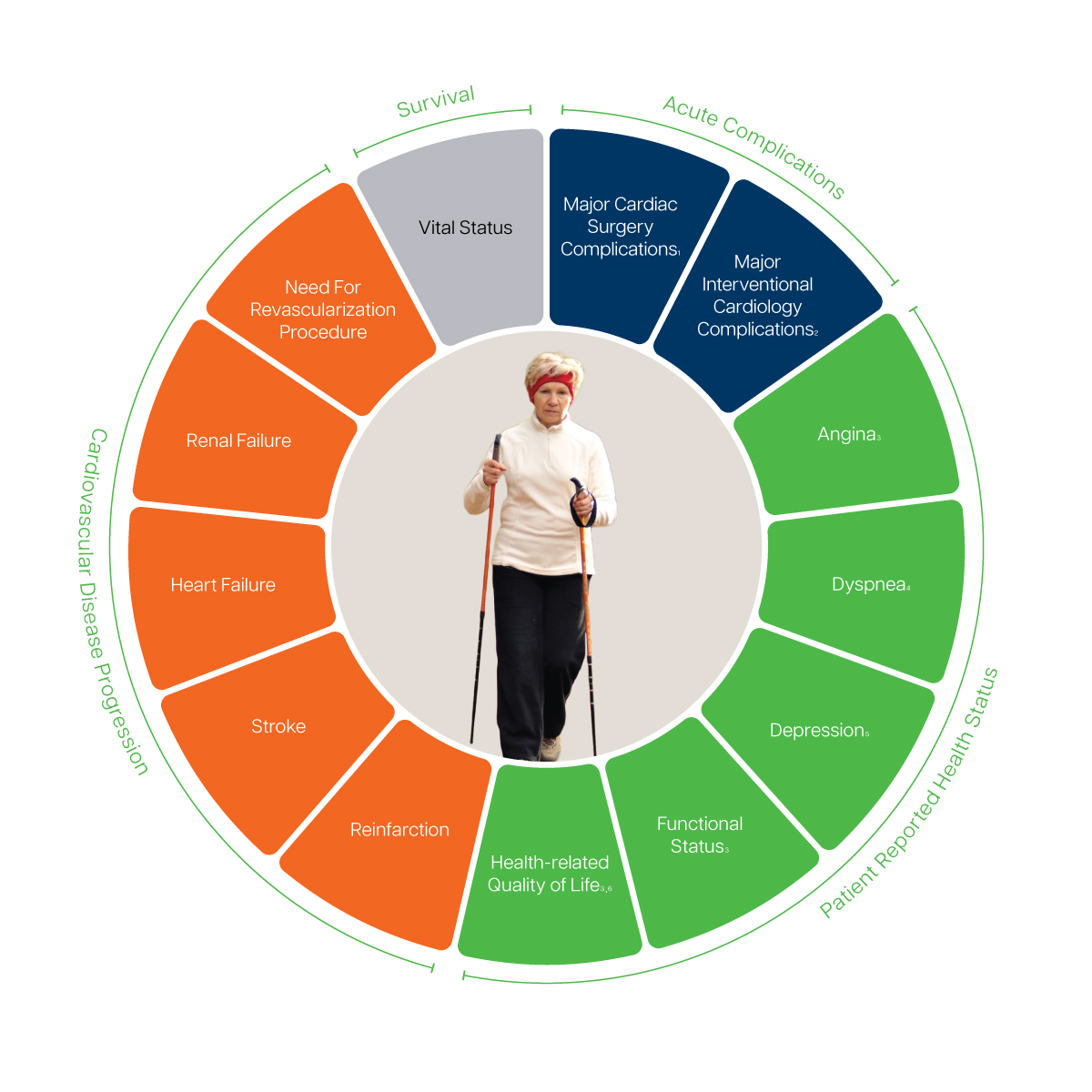 Implementation Resources
You will need a Connect account to access the following documents:

All of the basic information you need to implement ICHOM Sets is available in the links above.
However, for a faster, more easily integrated process, we offer digitised versions of the Set measures. These are designed for immediate upload to existing EMR systems.
This is available as part of our Accreditation package, which recognises your work in putting patient outcomes at the heart of treatment.
---
Team that developed this set
AUSTRALIA
John Beltrame | Queen Elizabeth Hospital, Adelaide
INDIA
Bishnu Panigrahi | Fortis Healthcare
SINGAPORE
Terrance Chua Siang Jin | National Heart Centre
SWEDEN
Tomas Jernberg | Swedeheart
UNITED KINGDOM
Clive Weston | Myocardial Infarction National Audit Programme
UNITED STATES
Erica Spatz | Yale
Bob McNamara | Yale
Larry Sadwin* | American Heart Association
Mark Schoeberl | American Heart Association
Louise Morgan | American Heart Association
David Shahian | Massachussetts General Hospital, Harvard Medical School
Jack Lewin | Cardiovascular Research Foundation
Paul Heidenreich | Cardiology
John Rumsfeld | Veterans Health Administration
Robert Jesse | Veterans Health Adminsitration
Robert Yeh | Massachussetts General Hospital
*Person with Coronary Artery Disease
**Former carer, Coronary Artery Disease campaigner and policy consultant
***Person with Coronary Artery Disease, with Rosemary Oliver | Keith's wife and Carer – Jess Amos & Ingrid Tamuyeye | Keith's Supporters and University of Kent Psychology Students
TEAM THAT FACILITATED THE UPDATE OF THIS SET AS PART OF THE CARDIOMETABOLIC FAMILY UPDATES INITIATIVE:
Elena Arbelo | Hospital Clínic Barcelona
Menno Huisman | Leiden University
Andreas Bollman | Heart Centre Leipzig
Benjamin Steinberg | University of Utah School of Medicine
John Beltrame | University of Adelaide
Tom Lumbers | University College London
Cristina García Ulloa | Instituto Nacional de Ciencias Médicas y Nutrición Salvador Zubirán
Andrew Pumerantz | WesternU, Population Health Science
Sergio Hernández | Instituto Nacional de Ciencias Médicas y Nutrición Salvador Zubirán
Søren Skovlund | Evidera
Mark Peyrot | Loyola University Maryland
Magdalena Walbaum | London School of Economics and Political Science
Erik (F.A.) Klok | Leiden University
Albertino Damasceno | Eduardo Mondlane University
Camila de Menezes Succi | Dasa Hospitals
Jana Nano | Helmholtz Zentrum München
Kevin Veen | Erasmus Medical Centre
Cindy de Jong | Leiden University
Tim Benson* | Nile Health
* Patient Representative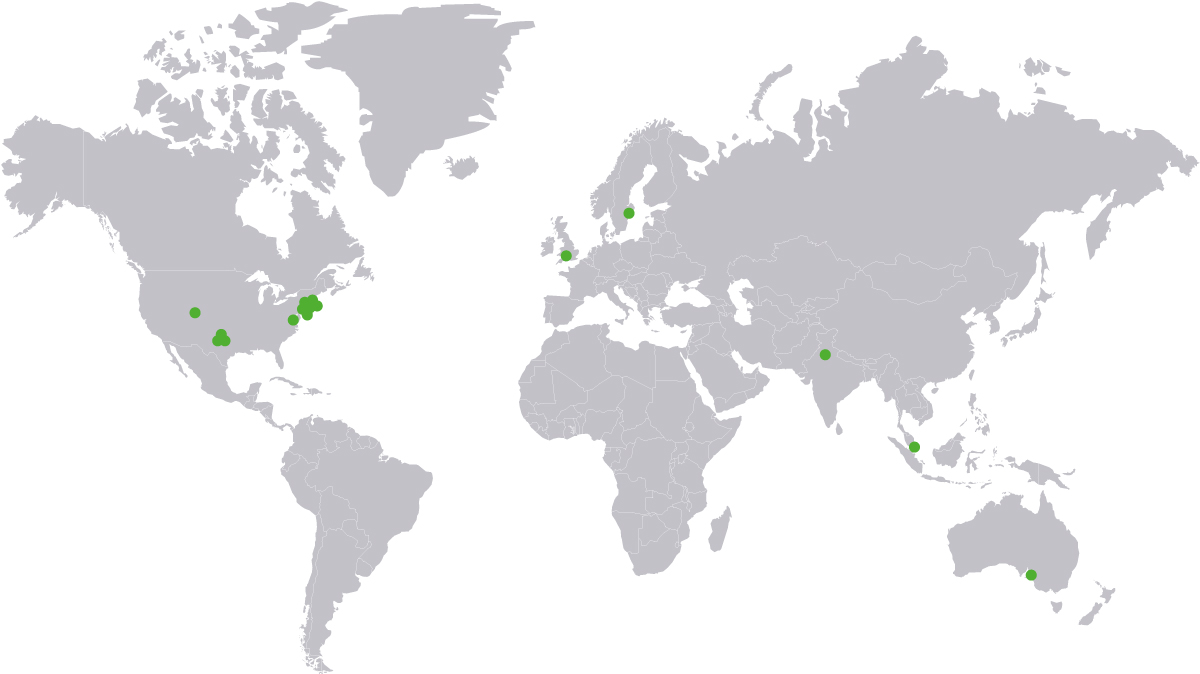 ---
Are you implementing ICHOM Sets?
If your are implementing ICHOM Sets, please help us understand more about your journey by filling in our Implementation Survey. Click on the link below to complete:
View survey
Implementation Map
We would like to add you to our Implementation Map if you are implementing or have implemented ICHOM Sets. Please click on the button below for more information.
Find out more