Hand & Wrist Conditions
The ICHOM Set of Patient-Centered Outcome Measures for Hand & Wrist Conditions is the result of hard work by a group of leading physicians, measurement experts and patients. It is our recommendation of the outcomes that matter most to patients with hand & wrist conditions. We urge all providers around the world to start measuring these outcomes to better understand how to improve the lives of their patients.
Details
1 Patient-reported outcome
2 Evaluated via Michigan Hand Outcomes Questionnaire (MHQ)/ Patient-Rated Wrist/Hand Evaluation (PRWHE)/ Boston Carpal Tunnel
Questionnaire (BCTQ) and Patient Specific Functional Scale (PSFS)
3 Evaluated via Goniometry and Kapandji Score (only used for the Thumb Track, Nerve Track and Severe Trauma Track where applicable)
4 Evaluated via hand-held dynamometer
5 Evaluated via Lateral/Key Pinch and Tip Pinch (not applicable for the wrist track)
6 Evaluated via Numerical Pain Rating Scale and Michigan Hand Outcomes Questionnaire (MHQ) / Patient-Rated Wrist/Hand Evaluation
(PRWHE)/ Boston Carpal Tunnel Questionnaire (BCTQ)
7 Evaluated via Weinstein Enhanced Sensibility Test (WEST)
8 Evaluated via Cold Intolerance Symptom Severity questionnaire (CISS) 9 Evaluated via Working Group-designed Return to Work tool
10 Evaluated via EQ-5D-5L
11 Evaluated via Working Group-designed satisfaction with treatment results tool
12 Evaluated via modified Clavien-Dindo Classification for hand surgery
13 Report of any repeat operation for the same condition in the same patient due to disease progression or recurrence, or as follow-up to failed previous surgery. Subsequently, description of new / additional treatment, (within final time point of tracks).
Key:
In addition to the core set there are 5 track specific tracks for each condition.
A= Regular Thumb Track B=Extended Thumb Track C= Regular Finger Track D= Extended Finger Track E= Regular Wrist Track
F= Extended Wrist Track
G= Regular Nerve Track
H= Extended Nerve Track
I= Severe Hand Trauma Track (a score of >50 in MHISS and evidence of 3> damaged structures are required for allocation to this track).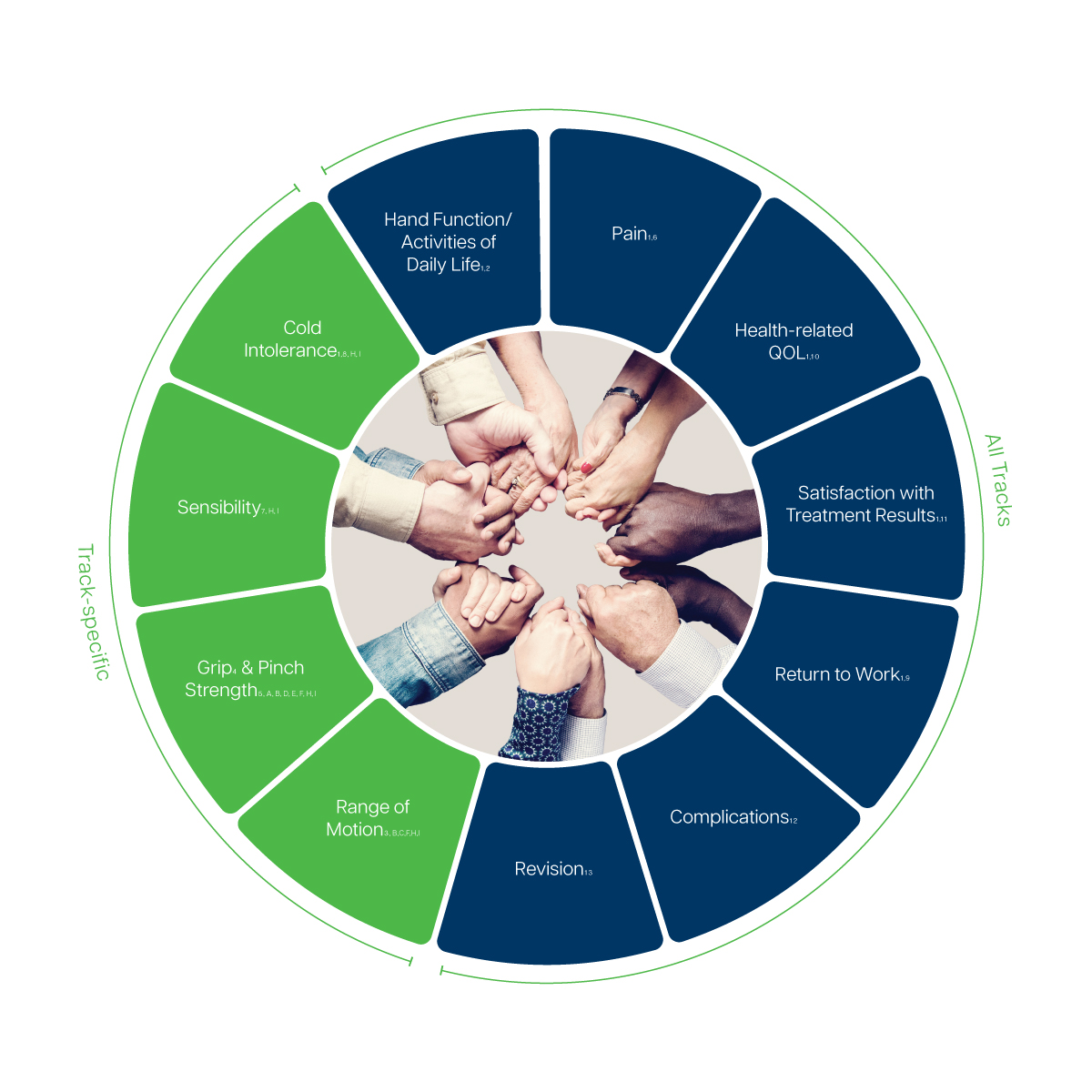 Implementation Resources
You will need a Connect account to access the following documents:

All of the basic information you need to implement ICHOM Sets is available in the links above.
However, for a faster, more easily integrated process, we offer digitised versions of the Set measures. These are designed for immediate upload to existing EMR systems.
This is available as part of our Accreditation package, which recognises your work in putting patient outcomes at the heart of treatment.
---
Team that developed this set
PROJECT TEAM
Chair | Steven Hovius | Radboud University Medical Centre, Xpert Clinic
Research Fellow | Robbert M. Wouters | Erasmus MC, University Medical Center Rotterdam, Handtherapie Nederland/Xpert Clinic
Programme Manager | Andria Joseph | ICHOM
Director of Standardisation and Latin America | Alethse De la Torre | ICHOM
Research Associate | Adedayo O. Jobi-Odeneye | ICHOM
Research Associate | Christiana Ilesanmi | ICHOM
AUSTRALIA
Gregory I. Bain | Flinders University and Flinders Medical Centre
CANADA
Christine B. Novak | The Hospital for Sick Children, University of Toronto
Joy MacDermind | University of Western Ontario, Roth McFarlene Hand and Upper Limb Centre, St. Joseph's Health Centre Occupational Therapists
INDIA
S. Raja Sabapathy | Ganga Hospital
MEXICO
Martin Iglesias | Instituto Nacional de Ciencias Médicas Nutrición Salvador Zubirán
NETHERLANDS
Lucelle van de Ven – Stevens | Dutch Association The Working Group Occupational Therapists
Ruud W. Selles | Erasmus MC – University Medical Center
SOUTH KOREA
Goo Hyun Baek | Seoul National University Hospital, Seoul National University College of Medicine
SPAIN
Marc Garcia-Elias | Kaplan Hand Institute
SWEDEN
Lars B Dahlin | Department of Translational Medicine – Hand Surgery, Lund University.
SWITZERLAND
Maurizio Calcagni | University Hospital Zurich
TURKEY
Çiğdem Öksüz
Gürsel Leblebicioğlu
UNITED KINGDOM
Christina Jerosch-Herold | University of East Anglia
David Warwick | University Hospital Southampton
Ryan W Trickett | Cardiff and Vale University Health Board
UNITED STATES
Alexander Y. Shin | Mayo Clinic
Kevin C. Chung | University of Michigan Medical School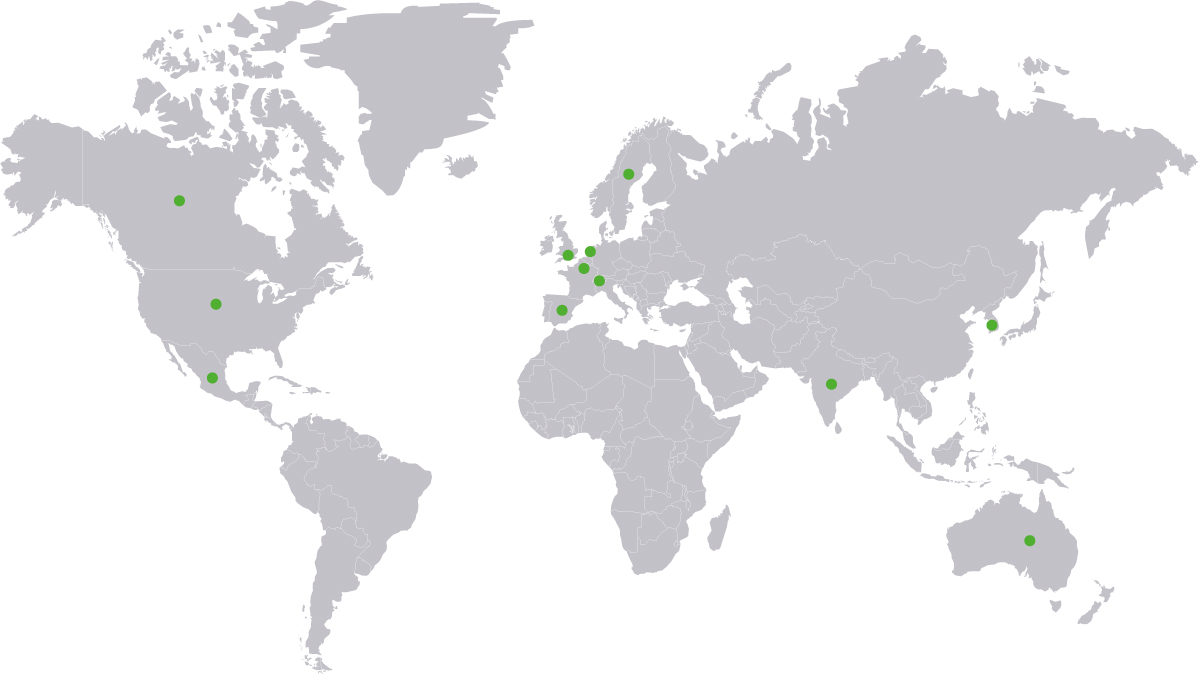 ---
Are you implementing ICHOM Sets?
If your are implementing ICHOM Sets, please help us understand more about your journey by filling in our Implementation Survey. Click on the link below to complete:
View survey
Implementation Map
We would like to add you to our Implementation Map if you are implementing or have implemented ICHOM Sets. Please click on the button below for more information.
Find out more