Localized Prostate Cancer
The ICHOM Set of Patient-Centered Outcome Measures for Localized Prostate Cancer is the result of hard work by a group of leading physicians, measurement experts and patients. It is our recommendation of the outcomes that matter most to patients with Localized Prostate Cancer. We urge all providers around the world to start measuring these outcomes to better understand how to improve the lives of their patients.
Recorded via the Clavien-Dindo-Classification
Recorded via the Common Terminology Criteria for Adverse Events (CTCAE), version 4.0
Recommend to track via the Expanded Prostate Cancer Index Composite (EPIC)-26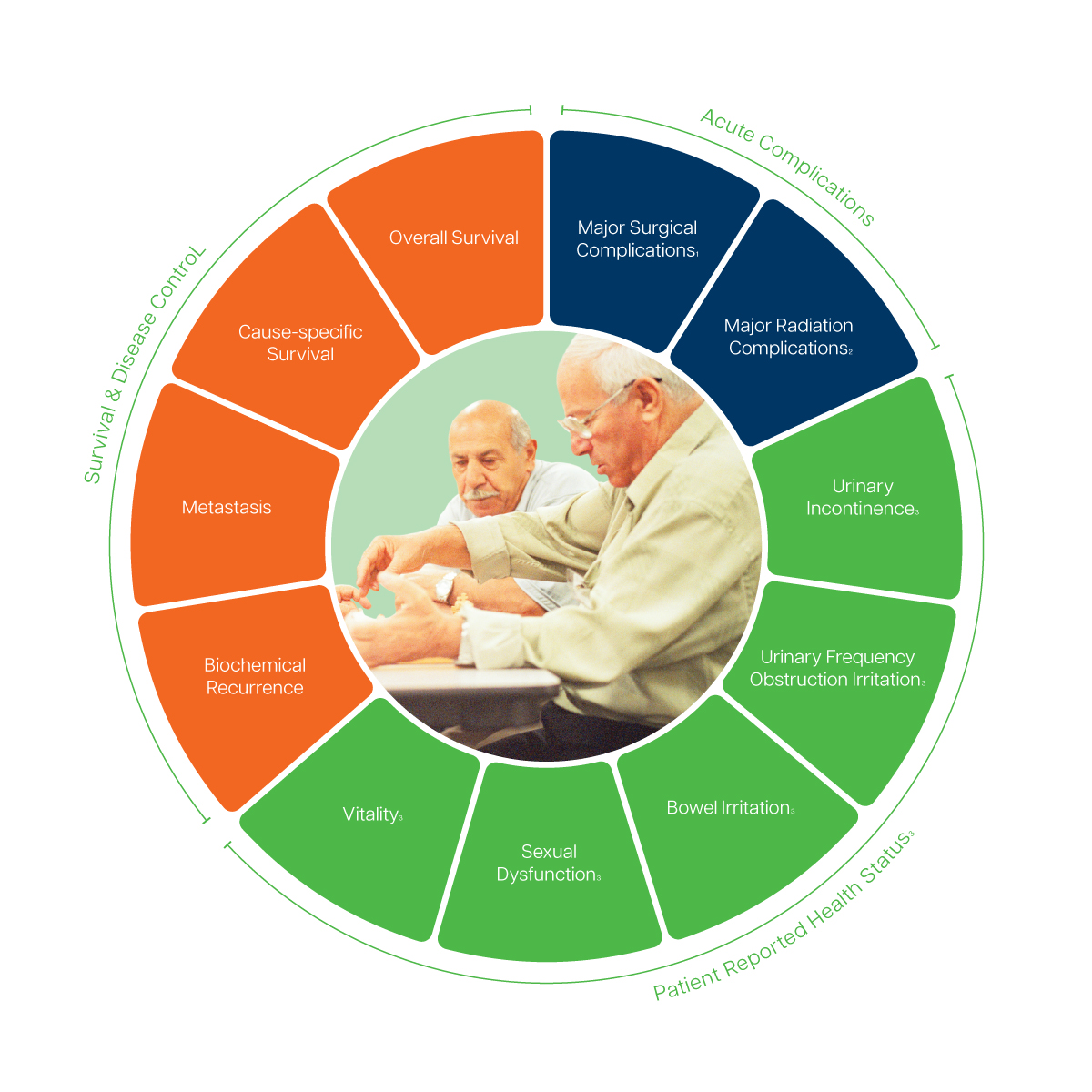 Implementation Resources
You will need a Connect account to access the following documents:

All of the basic information you need to implement ICHOM Sets is available in the links above.
However, for a faster, more easily integrated process, we offer digitised versions of the Set measures. These are designed for immediate upload to existing EMR systems.
This is available as part of our Accreditation package, which recognises your work in putting patient outcomes at the heart of treatment.
---
Team that developed this set
AUSTRALIA
Kim Moretti | South Australian Prostate Cancer Clinical Outcomes Collaborative (SA-PCCOC); The Queen Elizabeth Hospital
Mark Frydenberg | Prostate Cancer Registry of Victoria; Monash University. South Australien Prostate Cancer Clinical Outcomes
Ian Roos* | Melbourne Graduate School of Education, University of Melbourne; Cancer Action Victoria
GERMANY
Hartwig Huland | Martini-Klinik at University Medical Center Hamburg-Eppendorf
Markus Graefen | Martini-Klinik at University Medical Center Hamburg-Eppendorf
Michael Froehner | University Hospital Carl Gustav Carus, Technical University of Dresden
Thomas Wiegel | University Hospital Ulm
Günter Feick* | Bundesverband Prostatakrebs Selbsthilfe (BPS); Europa UOMO
IRELAND
Frank Sullivan | Galway University Hospital; Prostate Cancer Institute at NUI Galway
John Fitzpatrick | Irish Cancer Society
ISRAEL
Jacob Ramon | Sheba Medical Center
ITALY
Alberto Briganti | Vita-Salute San Raffaele University Hospital
NETHERLANDS
Chris Bangma | Erasmus Medical Center
SWEDEN
Anna Bill-Axelson | Uppsala University Hospital; National Prostate Cancer Register (NPCR) of Sweden
UNITED KINGDOM
Adam Glaser | Leeds Teaching Hospitals NHS Trust
James Catto | Academic Urology Unit and Academic Unit of Molecular Oncology, CR-UK/YCR Sheffield Cancer Research Centre
UNITED STATES
Steven Jay Frank | MD Anderson Cancer Center
David Swanson | MD Anderson Cancer Center
Andrew Vickers | Memorial Sloan-Kettering Cancer Center
Adam Kibel | Dana-Farber Cancer Institute; Brigham and Women's Hospital
Anthony D'Amico | Dana-Farber Cancer Institute; Brigham and Women's Hospital
Neil Martin | Dana-Farber Cancer Institute; Brigham and Women's Hospital
Michael Blute | Massachusetts General Hospital
Howard Sandler | Cedars-Sinai Medical Center
Ronald Chen | University of North Carolina Lineberger Comprehensive Cancer Center
Nancy Mendenhall | University of Florida Proton Therapy Institute
Daniel Hamstra | University of Michigan Health System
Ashutosh Tewari | Icahn School of Medicine at Mount Sinai Hospital
*Patient representative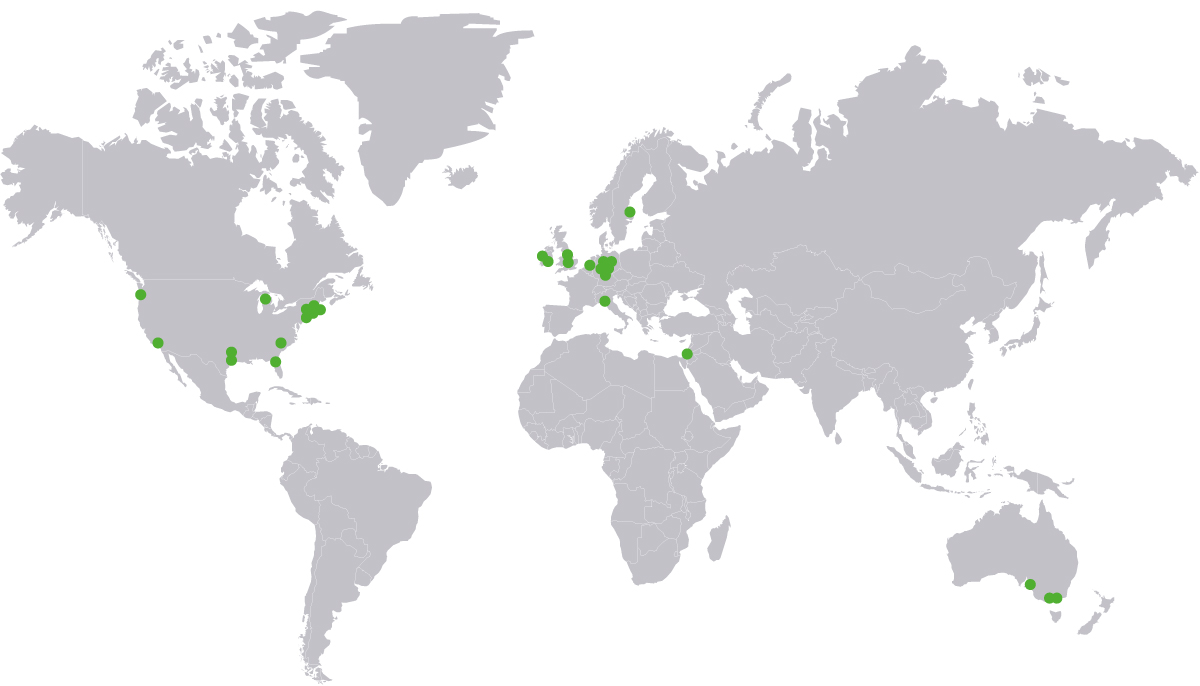 ---
Are you implementing ICHOM Sets?
If your are implementing ICHOM Sets, please help us understand more about your journey by filling in our Implementation Survey. Click on the link below to complete:
View survey
Implementation Map
We would like to add you to our Implementation Map if you are implementing or have implemented ICHOM Sets. Please click on the button below for more information.
Find out more